For more information or to purchase tickets, click here.

DAFP will recognize NMHM by having a cultural competency/health equity presentation during our April membership meeting.

The USPSTF recommends that clinicians screen adults aged 18 years or older for alcohol misuse and provide persons engaged in risky or hazardous drinking with brief behavioral counseling interventions to reduce alcohol misuse.
Grade: B Recommendation.
The USPSTF concludes that the current evidence is insufficient to assess the balance of benefits and harms of screening and behavioral counseling interventions in primary care settings to reduce alcohol misuse in adolescents.
Grade: I Statement.


Compliance date: May 21, 2014 | For more information


Million Hearts DE Initiative
DAFP is leading the campaign. Heart healthy resources for patients and healthcare providers available at our Million Hearts site. Check out the
Million Hearts DE site
(sponsored by DAFP).
Welcome DAFP Members, Future Members & Friends!
It is with great pride that I welcome you to the DAFP website! This year I encourage you to "Say YES! to the DAFP." There are so many opportunities for you to get involved in
your
Academy.
Be on the lookout for opportunities to:
Y: Yell about our past
E: Engage in our present
S: Sustain & Secure our future
Thank you for all you do!
With DELFAMDOC pride,
Margot Savoy
MD, MPH, FAAFP, CPE
2013 Chapter President
DAFP is the chapter spotlight in AAFP NewsNow! Read about our work with Million Hearts Delaware.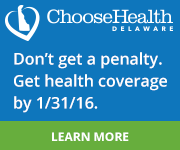 Tweets by @Delfamdoc
CONGRATULATIONS to our 2014 Award Winners!
Each year the DAFP honors members for their outstanding contributions and leadership, and we are pleased to announce the awardees who will be recognized at this year's Annual Awards & Installation Dinner on June 7th at Deerfield (Newark, DE):
The DAFP Research & Education Foundation
Click to learn more about the outstanding work our Foundation is doing, to learn more about the Platt Summer Fellowship or to support the Foundation.
Upcoming Educational Events
Looking for quality, evidence-based continuing medical education? We offer a number of events and a variety of annual symposia.